In the pursuit of a fulfilling and lasting relationship, it is vital to set standards and establish clear boundaries from the beginning. Gabriella Melrose, a respected life coach, and author, emphasizes the importance of understanding one's desires and needs. Too often, people settle for less by entering relationships with individuals who fail to meet their expectations or align with their long-term goals.
Gabriella advises, "Be unequivocal about your desires. If you seek a partner who values a family-oriented life, it is not wise to date someone who prioritizes partying every weekend. Misalignment in core values can lead to disappointment and conflict down the line." Communication is key when it comes to expressing your boundaries effectively. Many individuals neglect this crucial step, which can lead to control issues or obsessive communication patterns. It is essential to openly communicate your likes and dislikes, as others cannot read your mind.
Open and Honest Communication: Nurturing a Strong Foundation
Once you have found a compatible partner, maintaining open and honest communication becomes paramount. Understanding each other's needs and nurturing a sense of emotional connection is vital for a healthy and fulfilling relationship. Gabriella stresses that relationships are not always about a 50-50 balance; there will be times when one partner requires more support than the other. By fostering an environment of trust and empathy, both individuals can navigate these challenges together.
"Remember that you and your partner come from different backgrounds, each with unique values and perspectives," Gabriella explains. "The goal is to find a middle ground where both parties can thrive. This can only be achieved through open and sincere conversations. It should never be a one-sided effort. Both individuals must be willing to adapt and work on their connection. Together, you grow as individuals and as a couple, creating a stable and fulfilling relationship."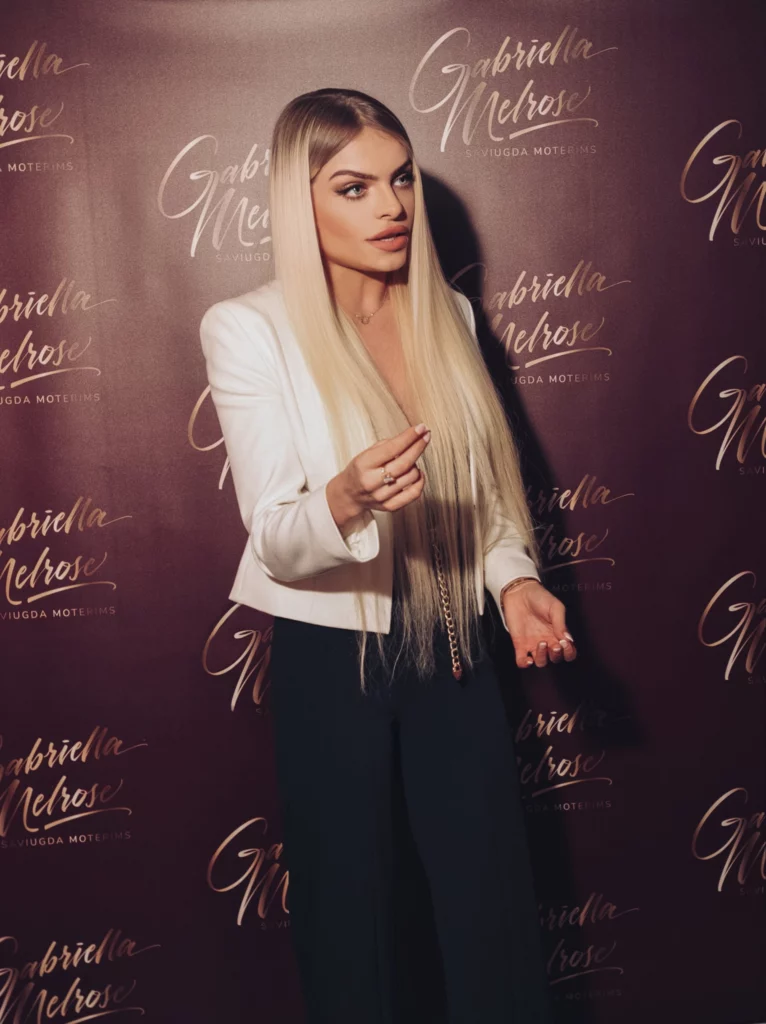 The Importance of Investing in the Relationship: Nurturing Growth Together
Gabriella Melrose emphasizes the significance of investing time and effort into the relationship. A thriving partnership requires continuous learning and understanding of one another. Taking the time to explore each other's interests, dreams, and aspirations lays the foundation for a deep and meaningful connection.
"Building a successful relationship goes beyond just being physically present," Gabriella affirms. "Investment in the relationship means actively participating in each other's lives, supporting personal growth, and celebrating achievements together. This mutual investment fosters a sense of security, love, and partnership."
By dedicating time and energy to the relationship, couples can navigate challenges, grow together, and create a solid bond that can withstand the tests of time.
Discovering Gabriella Melrose: A Trusted Guide on Self-Love and Relationships
Gabriella Melrose, also known by her real name Gabriele Slizeviciute, is a highly sought-after female life coach and author with a passion for empowering women worldwide. Through her online coaching sessions, Gabriella provides guidance on self-love, personal growth, and relationships. With her deep understanding of the intricacies of human connections, she has helped countless individuals transform their love lives and cultivate healthy, fulfilling relationships.
To access Gabriella's wealth of knowledge and expert advice, you can follow her on Instagram @gabriellamelrose. Through her posts and interactions with her followers, she shares valuable insights, practical tips, and thought-provoking perspectives on self-love and relationships. By tapping into Gabriella's wisdom, you can embark on a journey toward discovering your ideal partner and nurturing a thriving, harmonious connection.
Closing Thoughts
Building and maintaining healthy relationships require intention, effort, and effective communication. Gabriella Melrose, a prominent life coach and relationship expert, stresses the importance of setting standards and boundaries, nurturing open and honest communication, and investing in the growth of the relationship. By following these essential principles, individuals can create lasting connections that bring fulfillment, happiness, and mutual support.
Remember, everyone has the potential to find their ideal partner. By prioritizing self-love, understanding personal desires, and fostering effective communication, you can embark on a journey towards building a healthy and fulfilling relationship.
Follow Gabriella Melrose on Instagram @gabriellamelrose to gain invaluable insights and guidance on self-love and relationships. Start your journey towards a vibrant and enriching love life today